PRODOTTI NON INVASIVI PER LA CURA DEL SE
>
>
Prodotti non invasivi per la cura del sé
Natural products for the psychophysical well-being of the person
Golamix spray
Golamix spray is a honey-based solution with propolis and grapefruit seed extract, formulated to provide relief and well-being to the throat.PROPOLIS: Propolis is a resinous aromatic substance that bees produce in spring from the buds of some trees, such as: birch, poplar, elm, willow, oak, horse chestnut, ash, pine, fir. It is composed of: 50 – 55% resin, 30 – 40% wax, 5% pollen, another 5% organic and mineral substances.
GRAPEFRUIT SEED EXTRACT: Grapefruit seeds contain bioflavonoids and naringin, isosakuranetin, neohesperidin, hesperidin, dihydrocanferol, quercetin, canferol, apigenin rutinoside etc. plus some proteins. The extract is obtained from the seeds and from the dehydrated pulp.
HONEY: Honey is a food that has several properties, including:• anti-inflammatory properties• calm the cough and disinfect the respiratory tract
GOLAMIX Spray– Does not contain alcohol-It does not contain added sugarsIngredients: Honey, grapefruit (seed extract) 5%, Propolis (concentrated extract), Sweet orange o.e., Potassium sorbate, CarregenineIn 20ml pack
Xantiol ® Lutèine 30 cps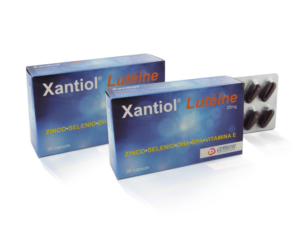 Xantiol Luteine is a synergistic association of two essential trace elements (selenium and zinc), of a fat-soluble vitamin (vitamin E), of a marine extract rich in polyunsaturated fatty acids of the omega -3 series (EPA and DHA), and an extract vegetable lipid rich in natural carotenoids (xanthophylls: lutein, zeaxanthin, cryptoxanthin)Xantiol Luteine is a food supplement that promotes the well-being of sight; protects the eye from damage due to oxidative stress, reducing the risk of age-related macular degeneration (DMS).Each capsule provides: 20 mg of native Lutein, 250 mg of DHA, 100 mg of EPA, 10 mg of zinc, 30 mg of vitamin E, 55 micrograms of selenium.30 Capsule
ALFALFA PLEX
Food supplement with Vitamin C, based on medicinal plant extracts, adjuvant treatment of the asthenic psycho-physical-sexual state; thanks to the presence of vitamin C and ginseng Alfalfa plex has a mild stimulating action of the Immune System. The synergistic action of the components increases the resistance of the organism, in a non-specific way, enhancing its efficiency in the face of the most diverse stressors, whether chemical, physical or mechanical.Excellent adjuvant to better cope with the preparation for an exam, the related disorderssenescence and seasonal changes or simply to lift the body from the heavy daily commitments.Pharmaceutical form: 125 ml drinkable solutionIngredients: Apple juice, Purified water, Ethanol, Vitamin C, extr. of riadici of Genziana, extr. of leaves of Alfalfa, extr. of grain of Avena, extr. of roots of Ginseng, extr. of barkof Cannella, Caramello, extr. of Cola nut, Natural benzoic acid, Potassium sorbate, Phosphoric acid, Natural vanilla flavor, Natural liquorice flavor.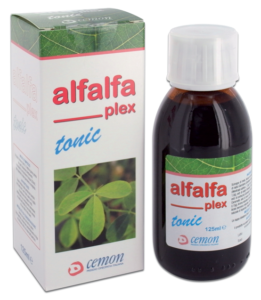 ALFALFA JUNIOR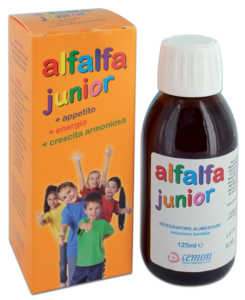 States of psycho-physical asthenia, lack of minerals and vitamin C. Stimulates appetite and contributes to a harmonious growth.Natural sugars present in apple juice (Fructose, Glucose, Sorbitol), Concentrated Apple juice, Concentrated Acerola juice, Currant extract, Vegetable glycerin, Purified water, Natural flavor (Ribes and Raspberry), Vitamin C, Avena sativa extr. , Gentiana lutea extr., Medicago sativa (Alfalfa) extr., Cinnamomun cassia extr., Glycyrrhiza glabra extr., Natural benzoic acid, K sorbate, Phosphoric acid.Pharmaceutical form: 125 ml drinkable solution
MAGNESIUM
It is a dietary supplement of Magnesium and B vitamins. An innovative formulation of Magnesium Pidolate associated with the Taurinergic vector (Magnesium Acetyltaurinate = ATA-Mg), to Vitamins B1, B2 and B6 to obtain an optimal assimilation; in fact, the vectors used facilitate their entry into the cells allowing to reach the maximum plasma concentration of Magnesium in 60-90 minutes and to cross the blood-brain barrier.Magnesium Cemon is a valuable ally in all conditions dominated by stress and psychic-physical overwork, fatigue and fatigue, cramps, menstrual pain, eclampsia, migraine, mood disorders, arrhythmias and metabolic syndrome. The drinkable solution, ready to be diluted in water, facilitates compliance and assimilation. One pack contains 20 single-dose 20-m sachets l to be taken once or twice a day: open the sachet and pour the contents into a glass of water.Ingredients: Purified Water, Citrus Aromas, Mg-Pidolate (Mg-L-5-oxo-proline), Chicory-oligosaccharides of chicory, Acacia soluble fibers, ATA-Mg® (Mg-Acetyltaurinate), Taurine, Preservatives: Sodium benzoate , Potassium sorbate; Vitamin B2, Vitamin B6, Vitamin B1
20 Sachets 20ml