Connaturarsi is a line of plant-specific products that includes two drinkable solutions, Helituxand Helitux junior, 5 gel creams, four Biobalsami.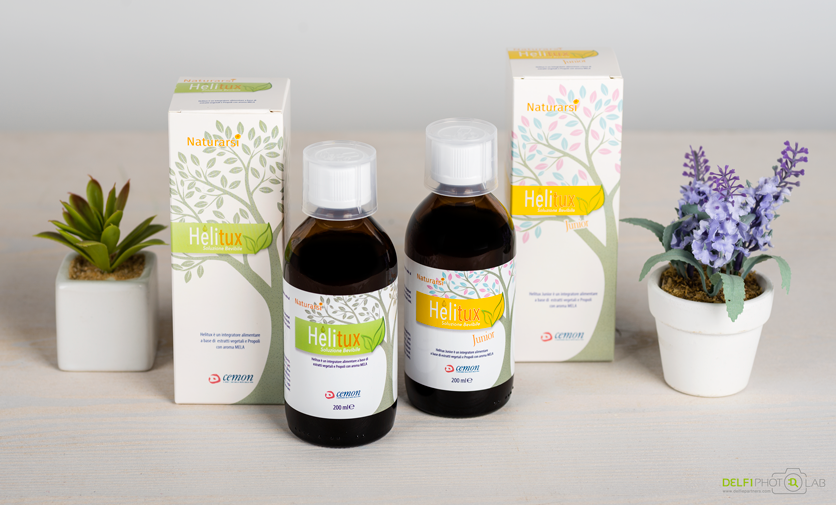 Helitux 200 ml drinkable solution based on plant extracts and propolis to help the mucosal function of the respiratory system.
Helitux junior 200 ml drinkable solution based on plant extracts and propolis to help the mucosal function of the respiratory system.
The formulation of the gel creams is based on glycolic extracts of plants selected for their properties, with a light eembased on oil. of sweet almonds.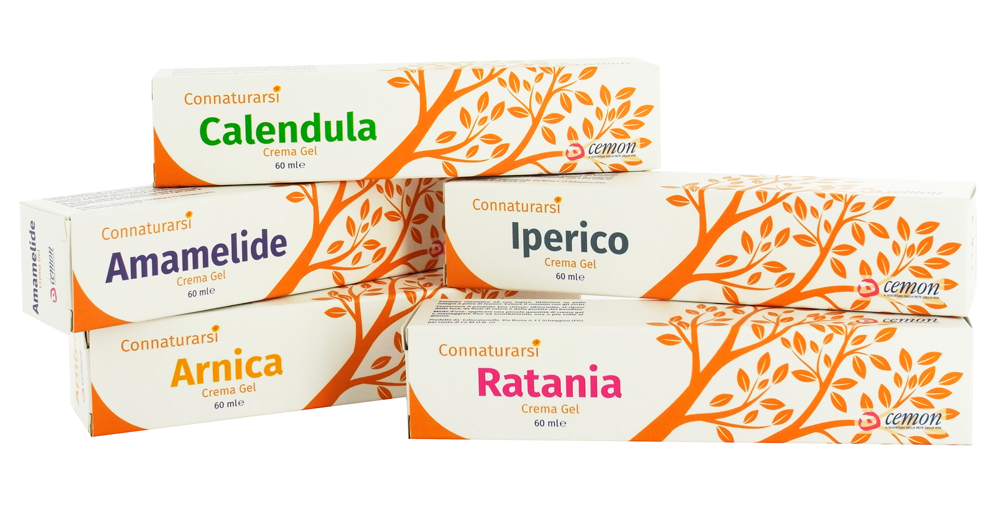 – Witch hazel cream is based on witch hazel and red vine, useful plants to assist the treatment of disorders of the circulatory system such as phlebitis, varices, capillary fragility and varicose veins.
The Arnica cream gel is based on Arnica, Devil's claw and Rosemary, plants with well-known analgesic and anti-inflammatory properties, useful to assist the treatment of strains and muscular tears, bruises, rheumatism, edemas and hematomas.
-Calendula gel cream, based on Calendula and Hypericum, extracts of plants that help the treatment of wounds, cuts, cracks and burns, favoring the natural regeneration of the most superficial tissues.
-The Hypericum gel cream contains extracts of Hypericum and Horsetail, plants used for the known properties, useful for the treatment of inflammation, scars, purulent wounds, of sores painful, ulcerations, itches, psoriasis.
-Ratania gel cream contains extracts of Calendula, Ratania, Horse Chestnut, Witch Hazel and Red Vine, plants with known properties, useful to assist the treatment of disorders of the circulatory system, anal fissures and hemorrhoids.
Gel creams are available in the 60ml format
Bio balsams

Bio balsams born from the ancient tradition of using pure vegetable oilsto convey the lipophilic extracts of medicinal plants. Vegetable oils, especially if cold extracted, have a 'high affinity for the epidermisand allow to convey the specific action of all those precious plant extracts bio-active, selected for specific properties and synergy of action. Bio balsams are certified 100% organic,in 45ml aluminum tubes, without fragrances or synthetic chemicals.
Biobalsams are:
Melaleuca compositum, dermo-purifying, whose key ingredients are Tea tree oil, lemon oil, propolis and neem oilexcellent adjuvants in the treatment of the epidermis in the case of bacterial and fungal infections; useful adjuvant in case of damaged skin and tending to acne rashes, infections and fungal infections.
The Rosa damascena compositum, soothing for reddened and sensitive skin, is an emollient and dermo-purifying; is therefore a useful adjuvant for the health of sensitive skinand delicate, tending to redness and inflammation.
The Rosmarinus compositum, soothing for muscles and joints, thanks to the botanical extracts that compose it and acting in synergy with others, is an excellent adjuvant with strong anti-rheumatic properties, analgesics and sedatives; it is therefore an adjuvant in all muscular and articular pathologies where it is necessary to act on inflammation, pain and restoration of joint functions
Il Nyp&Baby Calendula Balm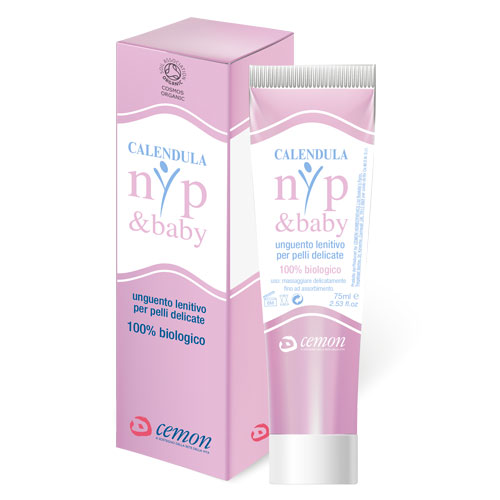 The Nyp & Baby Calendula Balm is a dynamic blend of specific plant bio-active extracts and precious organic oils used in the herbal tradition for the well-being of the skin, especially if it is delicate, sensitive and prone to reddening, even in the smallest. The product has a high moisturizing and protective, elasticizing and restorative action and finds its applications for breast and nipple preparation and health both during pregnancy and during lactation. Excellent as a protective for the baby's ass and for the prevention of redness.